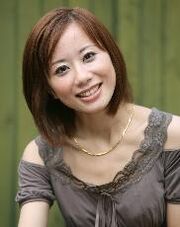 Reiko Yoshida (吉田 玲子 Yoshida Reiko) is the creator and writer of Tokyo Mew Mew. She has helped write many other manga, shows, and game scripts including Digimon and Peach Girl.
Biography
Reiko Yoshida is a Japanese voice over artist based in London. She has 10 years of experience in television and radio presenting. Reiko is professionally trained and provides Japanese voice over and narration to broadcasters and corporate clients world wide. Her English is fluent and Reiko can perform in International & North American & Japanese English accents. Reiko also provides Japanese translation and proofreading service (English to Japanese). As an ex-news reader and journalist, Reiko has written numerous scripts. Hence Reiko is able to provide a high standard translation service for media productions.[1]
Community content is available under
CC-BY-SA
unless otherwise noted.