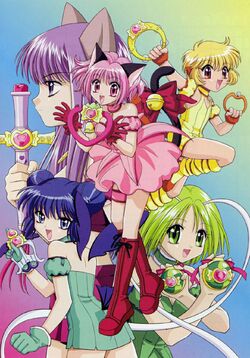 Tokyo Mew Mew is the name of the anime adaptation of the Tokyo Mew Mew manga, which the episodes are based on. The series was directed by Noriyuki Abe and produced by Studio Pierrot. The story focuses on the five girls infused with D.N.A of endangered animals that give them special powers. These powers allow the girls to transform into super-heroines and they fight to protect the Earth from a group of aliens who wish to "reclaim" it.
The series was broadcast on both TV Aichi and TV Tokyo in Japan and premiered on April 6, 2002. It aired weekly until in ended on March 29, 2003.
The opening theme was "My Sweet Heart" by Rika Komatsu and the ending theme was "Koi wa à la Mode", which was performed by the Japanese voice actresses of Ichigo Momomiya, Minto Aizawa, Retasu Midorikawa, Bu-Ling Huang and Zakuro Fujiwara, the main characters of the series.
List of episodes
Note: These titles are translations from the original Japanese episode names.
Tokyo Mew Mew Dubs
The series has been dubbed into over 20 languages. Here is a list of known dubs so far with some having links to pages on this wiki. The dubs will be split between Tokyo Mew Mew dubs (languages that dubbed from the original Japanese version), Mew Mew Power Dubs (languages that dubbed from the English version) and both (languages that dubbed the first half from the English version then dubbed the rest from the Japanese version).
Tokyo Mew Mew Dubs
Mew Mew Power Dubs
Both
Others
Community content is available under
CC-BY-SA
unless otherwise noted.