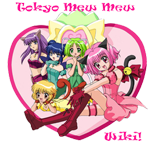 Tokyo Mew Mew Wiki is an English language Wiki that documents information about the Tokyo Mew Mew series. The administrators are Zuvia, Hika Yagami, and Chimera-gui. HoneyIchigo has left adminship as of 20 September 2010.
We are a community encyclopaedia and we are dedicated to presenting the most accurate information to the masses. This wiki contains spoilers, and important plot details about various things, such as characters, episodes, manga chapters and video games.
We hope to have a wiki full of information that people can reference back to and edit freely. However, that freedom can only be given if the wiki is free from vandals, so that pages do not need to be protected. We know they come up from time to time, but their work will be erased and reverted, so the wiki will always be up-to-date and clear.
Please edit and add articles to this wiki so that it has entries for all aspects of the Tokyo Mew Mew franchise.
Community content is available under
CC-BY-SA
unless otherwise noted.